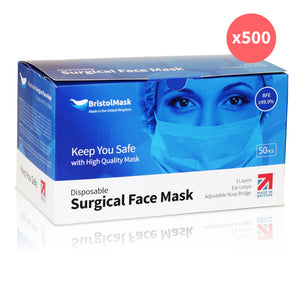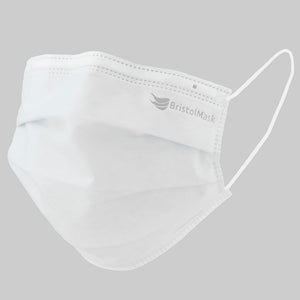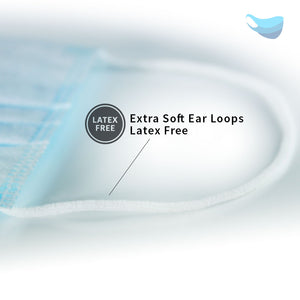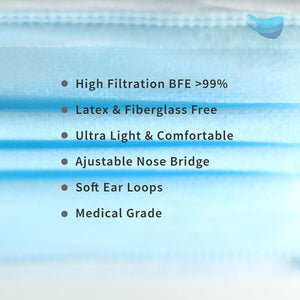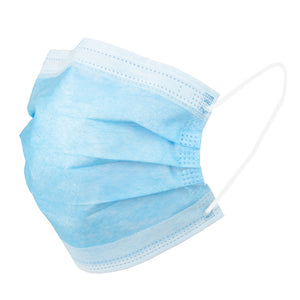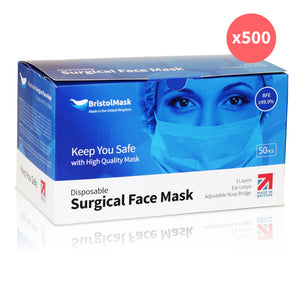 Disposable Surgical Face Masks 500PCS British Made
Ear Loops SecurSoft™
Unique on the market and developed by Bristol Mask, SecurSoft™ is 100% microfibre ear loops to make them softer and very comfortable on your skin.
Available for all colours except Classic version.
Features
Sealed bags or boxes of 500 masks:
Disposable 3 Ply

Adjustable Nose Wire (SecurFit™

except Classic version

)
Ear Loops (SecurSoft™ 

except Classic version

)

High Filtration (BFE ≥99.9%)

Certified

 

BS EN 14683:2019 Type IIR
Latex & Fiberglass Free (Hypoallergenic)

Ultra-Light & Comfortable

Colours: Blue, Black, White

Dimension: Adult 17.5x9.5cm

100% Made in Bristol, United Kingdom.
Large quantity+5000 masks contact us for a quotation.

Most Face Masks sold on the market today do not have tests for Filtration or Fluid resistance- Our Masks do.
Nose Bridge SecurFit™
Nose clip and wire with SecurFit™ is a specific technology that helps the mask to fit perfectly on your face.
For better protection and avoid steam on your glasses.
Instructions
Following the World Health Organization guidance:
Wash your hands before touching the mask

Inspect the mask for tears or holes

Find the top side, where the stiff edge is

Ensure the blue-side faces outwards

Place the stiff edge over your nose

Cover your mouth, nose, and chin

Adjust the mask to your face without leaving gaps on the sides

Avoid touching the mask

Up to 4 hours of use. Remove the mask from behind the ears

Keep the mask away from you and surfaces while removing it

Discard the mask immediately after use preferably into a closed bin

Wash your hands after.
Material
High quality tested material :
3 layers Non-Woven Fabric PP:

Outer layer: Spun bound 18 to

 25

gsm
Inner layer: Melt Blown 25gsm 99% filtration

Face layer: Spun bound 20 to 25gsm

Plastic

 and Metal 

Nose Strip (Only Plastic for 

Classic version)

Round Elastic Ear loops 3mm (SecurSoft

™ 100% microfibre except Classic version

)
Warning
These Masks help to protect you against certain airborne particulates and contaminants. They do not eliminate exposure to the risks associated with any disease or infection.
Keep in a cool dry place- below 40°C.
Use for up to 4 hours at a time.
Do not use if the packaging is damaged.
 Keep You Safe with our High-Quality Masks, proudly Made in the UK
Frequently Asked Questions

Who manufactures face masks in the UK?
Bristol Mask is the only Surgical mask Manufacturer in the South West. There are very few like us in the UK.
What are the 3 layers of a surgical mask?
Surgical Masks are made with an inner and outer layer of Spunbond material and a middle layer of meltblown, a very special type of material used as a filter.
How do you define a surgical mask?
A Surgical mask is a disposable version used to limit and prevent the spread of germs, viruses and bacteria coming from the mouth, and any respiratory diseases carried by liquid droplets and aerosol particles.
Which is the correct side of a surgical mask?
The front side of the mask is usually coloured and the white side is next to your skin. The nose bridge/ nose wire must be worn on the top of your nose and pinched to shape.
What material is used to make surgical masks?
Surgical masks are made of polypropylene, known as plastic (100% recyclable) and a nose bridge with or without metal. At Bristol Mask, we do not use metal in the nose bridge.
When should I wear a face-covering during the COVID-19 pandemic?
As recommended by WHO and the UK Government, to prevent the disease, a face covering must be worn in all enclosed spaces where it is too difficult to maintain social distancing.
Do face masks help prevent the spread of COVID-19?
Surgical Face Masks help to prevent the wearer from catching viruses from coughs, sneezes and when speaking to others.

Who invented surgical masks?
The first record we found was in 1897 when a French Surgeon, Paul Berger, used a piece of fabric to cover his face to prevent cross-infection during an operation.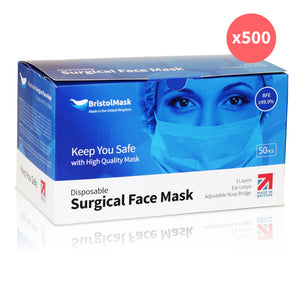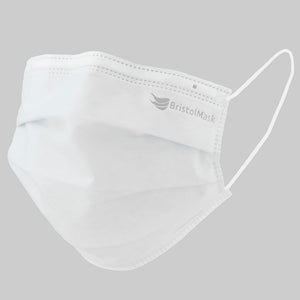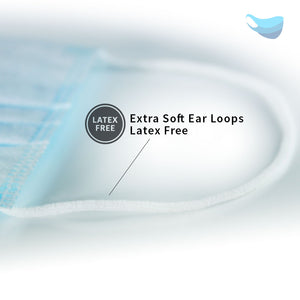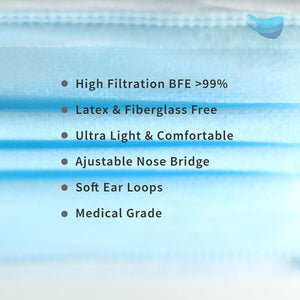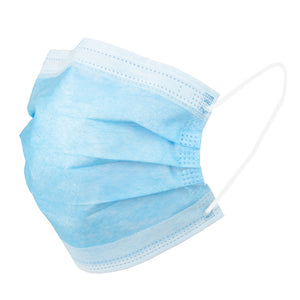 Face masks
Very pleased with the quality of the masks, the packaging, delivery and customer service. Will order again if required
Great service and excellent quality masks!
Thank you Chris. See you next time and keep safe. Great doing business with you.
Lovely 5 stars as well.